July 2013 – The FCC now permits the rebroadcast of NOAA Weather Radio on low power AM Highway Information Radios adopting many of Thunder Eagle's policy suggestions. Read the full article here
May 2012: Thunder Eagle is proud to be included in The Weather Channel "Great Tornado Hunt 2012." Equipment in some of the trucks includes our Weather Eagle 110 Stand-Alone Receiver.
July 2011: Local Magazine, "Viva Tysons" recently interviewed Thunder Eagle President, Dan Gropper. Read the article here.
March 2011: The University of Mary Washington, in Fredericksburg, VA has been a FipsServer website client since 2010. In this press release, they officially announce the site in the faculty and staff newsletter.
January 2011: Thunder Eagle traveled to Charlotte, NC for the 2011 NASCAR Security and Track Services Summit. Track managers and safety personnel from around the country attend this annual event to stay up-to-date on topics related to large-event venue security, access control, risk management and emergency services. Thunder Eagle alerting equipment such as the MRI-100 Multi-Radio Interface and FipsServer websites are great tools for NASCAR facilities.
May 2009: Thunder Eagle is proud to be part of the historical Vortex2 project. Weather Eagle 110's are being used to assist the over 100 scientists and crew in up to 40 science and support vehicles involved in the largest and most ambitious effort ever made to understand tornadoes. The Weather Eagle 110 NOAA Weather Radio high performance receivers are set to automatically scan and detect the strongest NWR signal as the project chases tornadoes from Texas to Illinois to find the weather alerts at the team's current location. Learn more about VORTEX2 at www.vortex2.org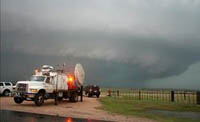 April, 2009: Thunder Eagle attends the 2009 Virginia Emergency Management Conference in Hampton, Virginia. This was our 18th consecutive year to attend.
Copyright © 2008-2009 Thunder Eagle Inc. All rights reserved worldwide.