Some Schools, Colleges and Universities Among Our Customers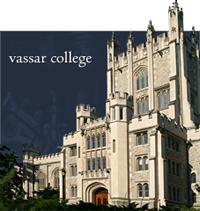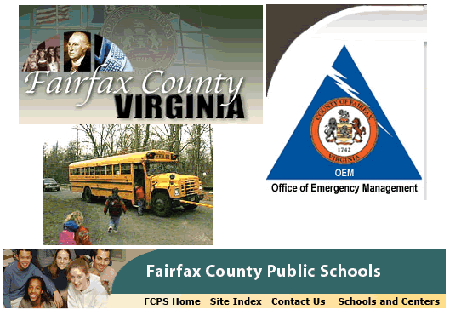 Campus Safety is a Top Concern
Thunder Eagle, Inc. has been based in Vienna, VA since 1993. We and our neighbors have been directly affected by recent tragic events at VCU and Virginia Tech This summer we visited many Virginia campuses as we prepare to send our children to your facilities. Safety was a top concern on each tour. Thunder Eagle® systems have been in active daily use by schools, universities, federal, state and local governments, power plants, broadcasters, data centers and factories throughout the country for almost 15 years.
A Real-life Example
During a visit to James Madison University a severe thunderstorm struck and the campus alert tones were broadcast on the outdoor loud speaker system. Our tour guide took us to a dorm until the storm passed. If we had not been with a tour guide, we would not have known what the tones meant. If a WE110/AE120 had been connected to the loud speaker system, the actual audio message from the National Weather Service (NWS) would have been automatically broadcast to inform everyone of the actual details of the emergency, whether tornado, thunderstorm or law enforcement emergency. This emergency communications channel would have worked even if telephone lines, text messages and cell phones were overloaded due to an emergency situation or technical failure.
If a WE105/AE400 had been connected to the campus blast out email/text system, the actual text of the alert from the SAME/EAS header would have gone to our tour guide's cell phone. Since this information is obtained from NOAA Weather Radio (NWR), there is no monthly data subscription cost. The message would have been similar to: NWS issued a Severe Thunderstorm WARNING valid until 11:43 AM 07/16/07 for VA*Rockingham.
On a Tight Budget?
We understand that many schools are under tight budget constraints. Many schools have opted for the WE110 stand alone unit which is an excellent NWR receiver based on the 1050 Hz alert tone. The unit is plug-and-play and is configured to work with an external antenna. The last warning is automatically digitally recorded into the receiver. This unit is perfect for campus security stations. Amplified audio speakers can be added for high noise environments.

Printers, LED Signboards and E-mail
Thunder Eagle® alert equipment is the state of the art for emergency operations centers around the country. Our equipment is used by the NWS to monitor their transmissions. A rugged 'credit card receipt' printer can be added to the AE400 to provide a real time hard copy of issued warnings. Email / text paging software can be added to automatically send the alerts to digital devices. Led signboards can be placed throughout your Ethernet network to automatically display alerts and your messages and the time on the signboards is automatically synchronized with your computer network time.
Two-Way Radio Systems
Most campuses have two way radio systems for security and maintenance and/or facilities management. Our systems can be configured to automatically place audio alert messages on your radio systems. This system has been in place for over 3 years on the Fairfax County trunked radio system bringing weather alerts directly to fire, police, public works, school busses, and other government workers throughout the integrated Washington DC metropolitan area. In addition to automatic alerts, pressing the microphone button for 3 seconds broadcasts one minute of live weather, which can be very useful to sports and outdoor event organizers.


WE110 Receiver -
AE120 SAME-EAS Decoder


WE105 Receiver -
AE400 SAME-EAS Decoder
Translates Alerts to Text


MRI-100 MultiRadio Interface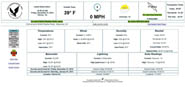 FipsServer Custom Weather Website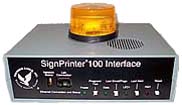 SP100 SignPrinter Interface


One Line LED Signboard