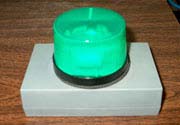 The Alert Strobe Light provides visual indication of new alerts received. When the unit has power, the strobe is activated by the dry contact closure of connector pins 2 and 3, or by pressing the 'test' button.

The strobe can be powered by wire from the AlertEagle®400, the WeatherEagle®110, the SignPrinter®100 Interface or from a wall transformer connected to the strobe light. Use standard 18-24 gauge wire for connections.

You can adjust the brightness of the strobe to show an alert without causing disruption or discomfort. The strobe is packaged in a stylish, rugged dark gray plastic case (2.9" W x 4.85" L x 1.3" H) with rubber feet. The strobe itself measures 2.5" dia x 1.75" H.


The Alert Strobe Light includes the following components:

+12VDC

switch +

switch -

ground
voltage regulator and filtered, diode-protected power supply.
The strobe has been successfully tested and used for many years in active Emergency Operations Centers


WE110 Receiver -
AE120 SAME-EAS Decoder


WE105 Receiver -
AE400 SAME-EAS Decoder
Translates Alerts to Text


MRI-100 MultiRadio Interface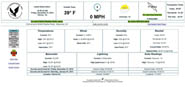 FipsServer Custom Weather Website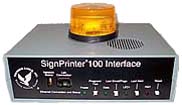 SP100 SignPrinter Interface


One Line LED Signboard